So me and Tim, better known now as
Martian Lewis
, went to the Ecstatic Tour show down the Sonar on Wednesday night. We got there an hour early so we could get front row and only two other people were there in front of us. A lady with a big phat donkey ass and her son. It must've been big phat donkey ass night at the Sonar, because there were a lot of big phat donkey asses.
When we finally got in, we had to wait a whole hour (doors opened at 7:30) for someone to perform. The first performance was by
Soul Cannon
, a hip-hop/jazz band from Baltimore.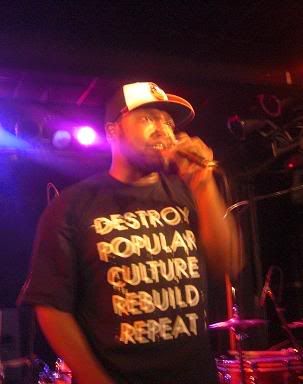 Soul Cannon was really energetic and they were a live band, so that helped. I'm not talking about the other opening acts because they really weren't worth talking about. Yup.
Jay Electronica came out and opened up with "Dear Moleskine", his Just Blaze produced track that was teased with a trailer. Jay Electronica was high and probably tipsy and you could tell. He also told us that he smoked two blunts with his DJ before he came on.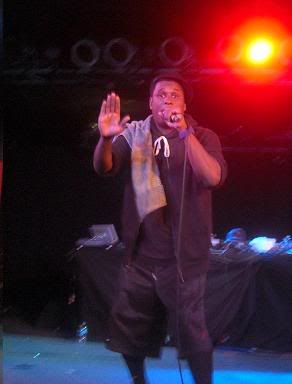 Some people complained about his intoxicated state, but fuck them, it was fun. He lip-synched an opera song, told us about his wager with his DJ about women liking getting choked during sex and did a rendition of "Give It To Me Baby".
However, through bouts of non-hip-hop entertainment, he still managed to perform like six songs, including fan-favorites "Exhibit A" and "Dimethytryptamine".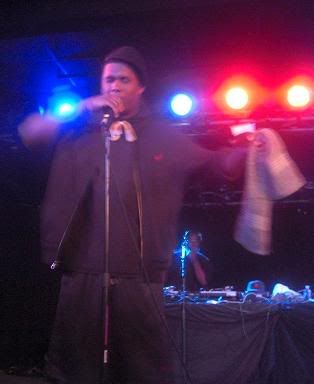 Talib Kweli came out next and rocked it, of course. Before he performed, it was interesting to note that they played "Because I Got High" by Afroman and everyone in the crowd knew the words. In the middle of Talib's set, someone proceeded to smoke marijuana in the crowd.
After Kweli's performance and a fifteen-minute wait, Flaco Bey himself came out, dressed like he was about to drive a train, and proceeded to play the drums while performing "Supermagic" off of the Ecstatic.
He also performed some songs from True Magic and did a cover of "Billie Jean".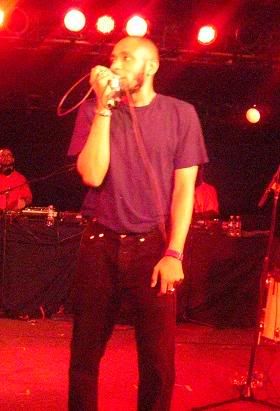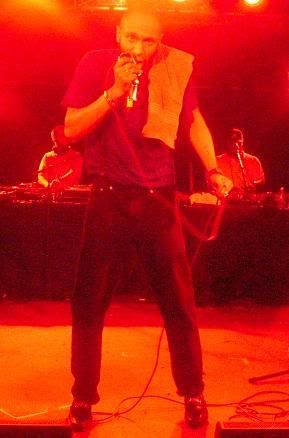 Then, Talib Kweli came on stage and they performed some Black Star classics.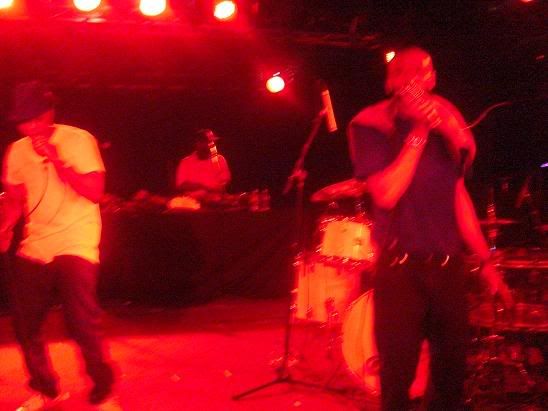 Mos Def also spoke on the Kanye situation, stating that Kanye was his best friend and he "didn't put spit on her, he didn't put his hands on that broad" and that everyone was blowing this out of proportion. Also, he said that Jay Leno should get "smacked in his banana-looking face" for asking Kanye what he would think that his mom would think about his actions.
All around it was fun night, blah blah. Look, it's late, I posted pictures, I'm uploading videos later.