Rarely does a brand come out that tries to convey a message and almost seem like it's reading my damn mind. Actually, that's, like, never. However, Sons of Liberty managed to do that by constantly putting out shirts that I want. First, it was their adamant support of Barack Obama. They have like four Obama tees, but this one is my favorite:
Then, when I crossed their brand again, they had a shirt that could help me voice my sentiments towards MTV (except Real World and America's Best Dance Crew. Those shows are awesome.
Although I like Nikes, I feel that they are painfully overhyped and all of the *ahem* hypebeasts feel that they can do no wrong, then BAM!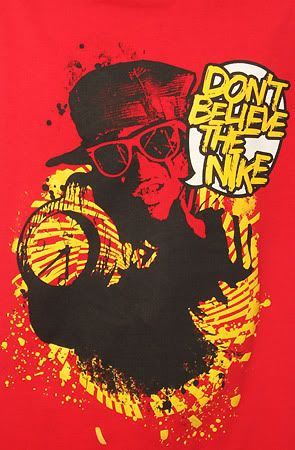 Then the one that finally sealed the deal is:
It's one of the better The Cool tees, if not one of the best Lupe Fiasco shirts any brand's ever made. Since I'm an avid Lupe Fiasco stan, this could possibly be the best thing this brand could have done to earn a fan. I plan on owning all of those shirts before the end of the year. Nigga got expenses, you know?