After the last random encounters I had with funny pictures on photobucket when searching "vagina", I decided I'd do it again. This time, using "fuck" (What did you expect? Penis? I don't like penis). This was hard because most of the pictures were just teenagers thinking they were rebellious or cool for putting up their middle fingers.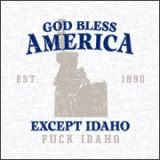 You know what, fuck this. I don't know when putting up your middle finger was the national pose for "I'm
fucking awesome
", but their are way too many retarded teenagers to go through.
I mean, really, what the fuck is up with American youth? They're so busy trying to look cool in front of their friends but seem to not realize they look really stupid. I used to do dumb shit, and now I see what it feels like to try to warn the youngsters and they don't care because they share IQ levels with
fucking armadillos
.
Really it's just me being frustrated because I couldn't find more funny pictures.